Coughing Our Way to Diabetes Independence
I was reading in bed the other night when I heard a series of giant coughs coming from the kitchen. I smiled and went back to my book. Those coughs are the sound of diabetes independence.
My son was diagnosed at the age of two, and like most toddlers, he was very unhappy at the changes in his life. Suddenly, the people who loved him the most and had been there for only hugs and snuggles, wanted to poke his fingers with needles and stab him with shots several times a day. We were very lucky that it took only a few days to adjust to the finger sticks and about two weeks before the shots didn't bother him much at all.
My son is now 16 years old; I get asked a lot about transitioning diabetes care from me to him. "When should my child be able to check his own blood sugar or change a pump inset?" "What can I do now to make sure she's more independent by high school?" Often, these questions are asked by parents of children ages 8-12. They're starting to see the signs of independence in their children in other aspects of life, so what about diabetes? Honestly, it's not that different.
I usually ask, "When was the last time you washed your daughter's hair?" or "When was the last time you physically helped your son get dressed?"
Childhood is funny. One day you're picking out your son's clothes, down to his skivvies, and helping him get in one leg at a time, and the next day you realize the only time you see your kid's underwear is when you do laundry. (And then one day, hopefully, they do their own!)
Diabetes is the same way. Of course, it takes a lot more guidance and help. But, if you give your child the tools and encouragement, they will gradually want to become more independent. It's our responsibility as parents to let it happen.
I think it's helpful to look for natural transitions. When Benny started kindergarten, we decided it would be a great time for him to start testing his blood glucose with his meter. He'd had diabetes for almost four years, so he was ready and excited to start checking himself. Of course, he always did it with adult supervision and he only checked himself at school; we still helped at home.
Other transitions have come with technology changes. Benny didn't do the Dexcom insertions because the Dexcom G5 was really tough for an individual (props to all y'all who've used door jambs and bed posts!). When the Dexcom G6 came out, he put it a sensor on himself, to test their "one hand insertion." When it worked, he never looked back. I can't remember the last time I helped with a sensor or inset change – something unimaginable just a few years ago. Do I have to remind him? Sure. He's 15. I don't think that's the age for him to be ready to be completely independent. I don't expect him to order his own supplies or deal with insurance companies yet, but I know parents who have their teens practice that.
These days, the only way I know Benny is taking care of diabetes stuff is when I hear those giant coughs. Why coughing? Research shows coughing is a natural pain reliver. Or really, a pain-confuser. Something about coughing mixes up your brain so it doesn't register pain. (If you decide to try this, please be careful about moving when you cough if someone else is giving the shot).
It works very well for Benny. And for me, it's become sort of an alert system. When I hear coughing, I know he's taking care of business. It's music to my ears.
Published: October 9, 2020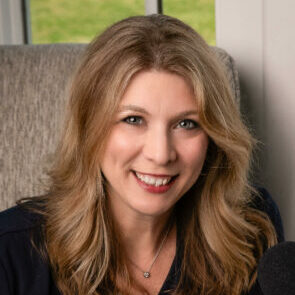 Stacey Simms is the host of the award-winning podcast Diabetes Connections and the author of The World's Worst Diabetes Mom. She's been named one of Diabetes Forecast Magazine's "People to Know" and to The Charlotte Business Journal "Forty Under Forty." For more than a decade, she hosted Charlotte's Morning News on WBT-AM, the city's top-rated morning radio news show. `