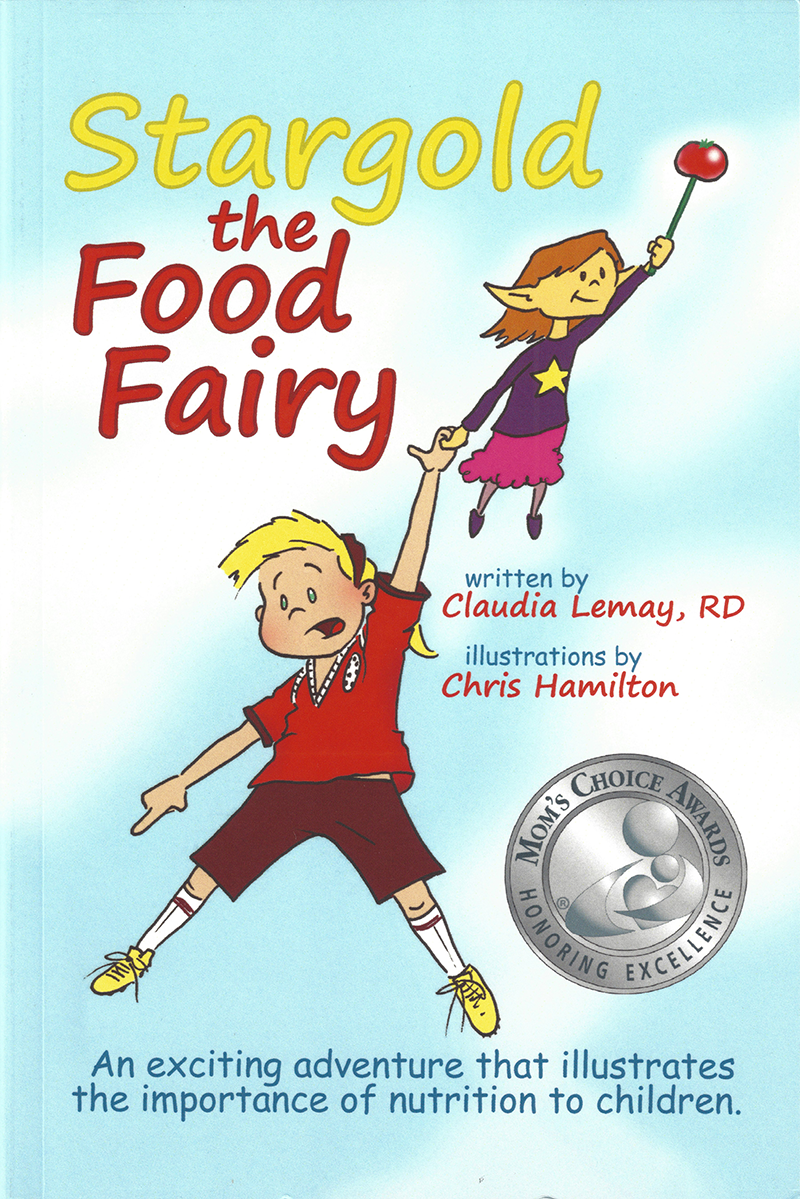 Stargold the Food Fairy
Claudia Lemay, RD
2016 Mom's Choice Awards® Winner! Stargold the Food Fairy has just been named among the best in family-friendly media, products and services. (Silver-Juvenile Books, aged 9-12.) Stargold the Food Fairy is the perfect book for parents who constantly find themselves repeating, "No, we are not eating candies for dinner tonight." The author of the book is a Registered Dietitian who came up with the story as she is one of those parents herself. And when her kids asked: "But why not, mom?" she felt that "Because I said so!" was not a good enough of an answer. The book is also a great teaching tool for dietitians and educators who wish to explain the importance of nutrition to children in a fun, easy-to-understand manner. Stargold the Food Fairy takes Lucie on an exciting adventure to Growland. Lucie is amazed when she learns that whatever she eats directly affects everything about her body. Lucie doesn't always appreciate the healthy meals her parents take care to provide. One day, Lucie becomes so angry over the dinner menu that she runs to her room. While Lucie is brooding, Stargold the Food Fairy appears with an invitation to travel together to the magical land of Growland. In Growland, Lucie meets elves that build magical houses and she soon discovers that these houses represent something far more precious. The houses are actually human bodies! Lucie learns that each food group has its own, very important role, and that various foods act as different building materials for her body. "Good foods build the brain; books expand it."
Looking for a fun and informative way to help your child or their friends understand type 1 diabetes? Registered dietitian Claudia Lemay has created a series of books to help teach children about diabetes and healthy eating. In Brody, Lucie and the Food Fairy, readers follow Lucie and Brody on an adventure to understand how type 1 diabetes affects Brody's body. 
Stargold the food fairy and Lucie help Brody overcome his fears about being different and even help him realize that having diabetes is part of what makes him special. The book also shows how it takes a team to manage diabetes, including Brody's parents and the school nurse. And if you have picky eaters, Stargold the Food Fairy teaches Lucie all about the importance of eating a diet rich in nutrients, protein, and whole grains to help her brain and body grow.
 For copies of these books in French, be sure to visit Stargold's Nutrition Foundation.
40 pages, softcover, $9.99 list, ASIN B08FD1HXR8.2020