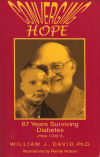 Converging Hope: 67 Years Surviving Diabetes
William J. David, Ph.D.
The author of the book vividly describes a true story of personally living with type 1 diabetes since 1938. The seventy-four-year-old diabetic professor depicts sixty-seven years combating the challenging disease. Lucid accounts portray the skirmishes that were associated with this factual adventure. The author manifestly portrays the challenge of vainly seeking normalcy while burdened by the unrelenting demands from the illness. Diabetic-related experiences contributed physically, psychologically, and socially to who and what the author became. Some of these bitter encounters lie deeply repressed and mutely hidden in the unconscious mind, never to be remembered, while others are entrenched in his conscious memory, never to be forgotten. The author brings these subdued memories unrelentingly to the surface and vibrantly shares them with the readers of this book. Buy directly from the Publisher
William David was diagnosed with diabetes before home glucose monitoring, before insulin pumps, before NPH insulin. Yet today, 67 years after being diagnosed in 1938 at the age of seven, he has four children, three grandchildren, two great-grandchildren, and has led a life that has helped emotionally troubled kids. In Converving Hope, David helps us to understand the challenges that all people with diabetes face, notably the deep fear of hypoglycemia, a theme that pervades the book. David writes in an easy to read style that conveys well what it is like to grow up with diabetes.
As a parent, it's often difficult to appreciate fully what it means to live with diabetes. David's book, like some others, offers us a chance to peek inside the mind of someone who has lived longer with and seen more advances in diabetes than anyone we are ever likely to meet. As a bonus, 50% fo the profits from the sale of the book will be donated to diabetes charities.
— Jeff Hitchcock
Published by Xlibris Corporation. $22.99 paperback. ISBN 1413471927.2005