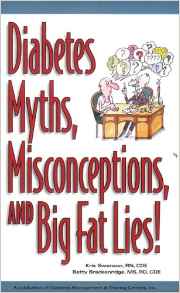 Diabetes Myths, Misconceptions, and Big Fat Lies!
Kris Swenson, RN, CDE and Betty Brackenridge, MS, RD, CDE
This is the engaging and irreverent patient text for Diabetes Management and Training Centers's Discovering Diabetes® patient education program. Full of the key myths and truths that surround diabetes, the Myth Book can help anyone with diabetes better understand and manage it. Covers all the key diabetes information areas in an easy-to-read format. Illustrated, spiral-bound.
If you've ever heard "people with diabetes can't eat sugar," then this book is for you. Kris and Betty, who together run Diabetes Management & Training Centers, debunk the myths and misunderstandings about diabetes. You'll get all the ammunition you need to deal with well-meaning friends and relatives who aren't quite up to date with their understanding of diabetes. Diabetes Myths is an excellent book that will help you get on the right track to managing your diabetes.
Published by Diabetes Management & Training Center, 2002. ISBN 0-9719939-0-4. $14.95.2002