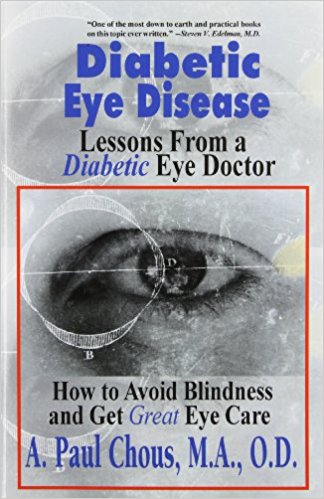 Diabetic Eye Disease
A. Paul Chous, M.A., O.D.
Diabetes affects every part of the eye, not just the retina. Presenting critical information about seven different kinds of diabetic eye disease as well as important steps all diabetics must take to preserve vision, Dr. Chous clearly and comprehensively guides you through the fundamentals of good diabetes management and great eye care. Written by an eye doctor, diabetes educator and patient advocate, this book is dedicated to helping you or someone you love avoid blindness and other complications by taking charge of your diabetes.
Dr. Paul Chous knows what he's talking about — not only is he an eye doctor who specializes in diabetic eye disease, but he has had type 1 diabetes since childhood and has had laser eye surgery himself to deal with proliferative diabetic retinopathy. Diabetic Eye Disease is, in essence, Dr. Chous's wisdom and advice for caring for your eyes (or the eyes of your child). Given the important of preventing blindness from diabetes, we would recommend this book simply because there is little else available to guide you in caring for your eyes.
However, Diabetic Eye Disease is a superb addition to any diabetes library. Dr. Chous covers basic diabetes care, citing the scientific basis for tight control (DCCT, UKPDS). The first 61 pages are devoted to diabetes in general. Only after you have a sound footing does he begin to explore eye care and what can go wrong. There is more to diabetic eye disease than just retinopathy. Ever heard of diabetic cranial neuropathy? You'll learn about it here, as well as many other issues related to ensuring that your eyes are well cared for.
Diabetes management is in large part about information, and Diabetic Eye Disease is an excellent book that will help you learn about how important good control is to protect your vision. Diabetic Eye Disease is highly recommended for parents, adults, and older kids with diabetes.
Published by Fairwood Press. ISBN 0-9668184-7-4. $15.992003