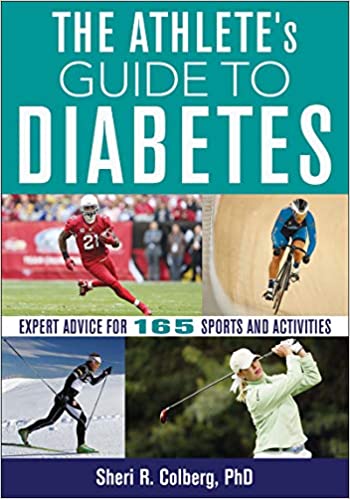 Diabetic Athlete's Handbook
Sheri Colberg, Ph.D.
Diabetes doesn't have to slow you down. Whether you're a recreational exerciser or a competitive athlete, The Athlete's Guide to Diabetes has the training and performance advice you need to remain active while effectively managing your condition. Renowned researcher and diabetes expert Dr. Sheri Colberg offers best practices and tips for managing blood glucose levels for athletes of all ages with type 1 and type 2 diabetes. She provides the most up-to-date information on insulin and other medications and their effects on exercise, nutritional practices and supplements, including low-carbohydrate eating, the latest technologies used to manage glucose, including continuous glucose monitoring (CGM), injury prevention and treatment as well as tactics for diabetes-related joint issues, and mental strategies for maximizing performance and optimizing health. You'll find 15 profiles of athletes with type 1 diabetes who share their accomplishments and how they manage medications, food intake, and other tools available to manage their activities with diabetes. Guidelines for 165 different sports and activities will reduce your trial and error when it comes to performing and feeling your best during fitness activities, endurance sports, endurance-power sports, power sports, and outdoor activities. The Athlete's Guide to Diabetes adheres to latest guidelines from such trusted sources as the American Diabetes Association and the American College of Sports Medicine. It is the one resource you can't be without if you want to stay healthy and active, train smarter, and reach new levels of athletic success without losing control of your blood glucose management. CE exam available! For certified professionals, a companion continuing education exam can be completed after reading this book. The Athlete's Guide to Diabetes Online CE Exam may be purchased separately or as part of The Athlete's Guide to Diabetes With CE Exam package that includes both the book and the exam.
We all know that exercise is important for good health — whether you have diabetes or not. If you're athletic, want to be, or have a child who is active in sports, the Diabetic Athlete's Handbook is a must-have addition to your diabetes library. Dr. Colberg, professor of exercise science at Old Dominion University, was diagnosed with Type 1 diabetes when she was four years old. She specializes in glucose and exercise metabolism and diabetes, and is therefore the perfect author for this topic. The initial chapters provide an introduction to the science of exercise, how diabetes medications work (insulin and oral hypoglycemics), nutrition and supplements, and general guidelines for Type 1 and Type 2 diabetes. Then the book gets really interesting: specific guidelines for adjusting diet and medications for dozens of sports from walking to ice hockey to marathon running, broken down into individual guidelines for adjusting insulin (pumps and MDI) and additional carbohydrate intake based on starting blood sugar levels. Sprinkled throughout are vignettes about athletes with diabetes covering many sports. Highly recommended.
Published by Human Kinetics, second edition published 2020. ISBN 0-7360-7493-7. 382 pages, paperback. $19.95.2020