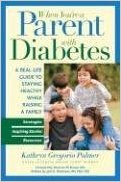 When You're a Parent with Diabetes
Kathryn Gregorio Palmer
Finding the time and energy to maintain a healthy diet and exercise program is a challenge for any parent–but it can be a matter of life and death for parents with diabetes. Diabetes in pregnancy, if poorly controlled, can increase the risk of miscarriage, birth defects, and prematurity. Mood swings and personality changes during a parent's spells of low blood sugar can frighten young children. And even on good days, it can be difficult for a parent to remember to check their glucose levels in the haste of getting the kids off to school. From the psychological to the medical to the purely practical, Kathryn Gregorio Palmer guides parents with either type 1 or type 2 diabetes through the ups and downs of staying healthy while raising a family. Helpful for adoptive and stepparents as well as moms and dads, the book answers questions such as: • What are the risks of being pregnant with diabetes? • Will I have the energy to handle a rambunctious child? • Where can I hide my juice boxes so the kids don't accidentally drink them all? A mother of two, Palmer blends her own experience with expert advice and tips from other parents to create a compassionate and useful handbook that parents with diabetes will find indispensable.
Many books offer guidance and support to parents who have kids with diabetes, but until now there has been nothing specifically for parents who have diabetes. When You're a Parent with Diabetes will help adults with diabetes with the challenges of being parents, and the unique challenges they face having diabetes (e.g., how do you hide your juice boxes from your kids?).
As the parent of a child with diabetes, I can't fully appreciate what it means to have diabetes, but I am thankful and grateful for Palmer's insightful book. One day, our children with diabetes will become parents with diabetes, and When You're a Parent with Diabetes can help show them the way. Highly recommended for adults with diabetes.
Published by the Healthy Living Books / Hatherleigh Press. Paperback, 123 pages. $14.95 ISBN 1-57826-232-1.2006