Diabetes moms—we are like regular moms, but we are different.  Watching your child receive a diagnosis of type 1 diabetes elevates you to a whole new level of motherhood and I'm almost certain that this chapter…the one about diabetes…was left out of all of the manuals that I read when I was preparing to become a mother for the first time.
Many of you may know that the day that my three-year-old daughter was diagnosed with type 1 diabetes, I discovered Children with Diabetes while browsing the internet looking for answers to help me sort out the grief, frustration, worry, and concern that came with her new diagnosis. It was by happenstance that I Googled "children with diabetes" and found the organization Children with Diabetes. Those three words changed my life forever. As I dove into the website and discovered the discussion forums, I wanted to learn all that I could about this thing called diabetes. I needed to know that we would survive this diagnosis. I hoped that there were other people out there facing the same thing that we were and needed to know that we were not alone. I needed to find a tribe and knew that I was likely not going to find all that I needed from the short time that I had with my medical care team at the hospital.
One of the first names that I remembered seeing on the CWD discussion forums was a person named "Laura." People referred to "Laura" a lot in discussion threads and this Laura person was very helpful when responding to questions from other participants in the discussions. "Laura" was somewhat famous in the forums, it seemed. After doing a little more reading, I learned that Laura was a diabetes mom and that she worked for Children with Diabetes. Laura was responsible for planning a conference called Friends for Life (FFL, pronounced Fiffle). I soon learned that Laura was actually responsible for creating the FIRST Friends for Life conference when she sent an email to a group of other families living with type one diabetes by asking a simple question: "Our family has a vacation planned the first week of June in Disney World. Would anyone like to come with us?" The "Laura" in the discussion forums was none other than Laura Billetdeaux.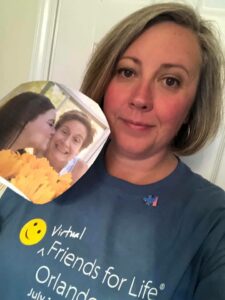 Laura has been working to help create a community where families and individuals with type one diabetes from across the world can join together and find just the tribe that I was looking for on that first night of Ava's diabetes diagnosis and every night since. She's responsible for the green and orange wristbands that we can't wait to wear as soon as we receive our conference materials at the registration table at each FFL conference. At the helm of our conferences, she's meticulously studied, double checked, and then reviewed again and again all of our banquet event orders to make sure that every shared meal, every chair and table and table cloth, and every water station is in just the right room at just the right time for our conference attendees. She's given thousands of hugs and wiped away just as many thousands of tears from worried diabetes families who have finally found someone who "just gets it." She's the diabetes mom who gave us the FFL community that has become our family. She's the one who helped to form our Fiffles.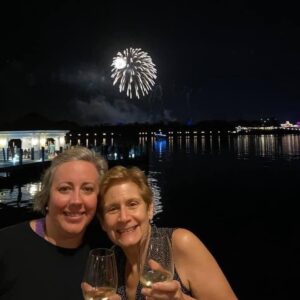 After working with Children with Diabetes for over 20 years, Laura will retire at the end of 2023. The CWD team has been working for the last several years to develop new leadership and new processes to carry Friends for Life into the future. We will be building upon the amazing legacy that Laura and Jeff (the Founder of Children with Diabetes) have created and building the FFL of the future with a keen knowledge of our past and cherishing these foundations. From those early days when Laura sent an email to a couple of hundred people asking if they wanted to join her on vacation to where we are today, I know that Laura is excited to see the future of Friends for Life and the future growth of this organization.
Diabetes moms are the strongest of moms.
Thank you, Laura, for teaching me that lesson. Time and time again.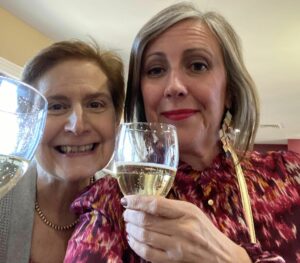 From the entire Friends for Life community, thank you for helping us to create a safe space for so many years where we can cry and laugh all at the same time. Thank you for the hugs in the hallways of our conferences. Thank you for the private talks and for the walks around the lake. Thank you for the late-night texts and the answers to our emails. Thank you for connecting people in faraway parts of the world when people were without diabetes supplies or faced what felt like an emergency near or abroad. Thank you for allowing us to be a part of your family. Thank you for being a part of our family. Thank you for helping us build our tribe. Thank you for being our Friend for Life.
Green and Orange Forever,
Leigh
Written by Leigh Fickling, JD, MEd, MS