I have a confession to make.
I'm a diabetes supply hoarder…a diabetes supply "prepper"…a person who worries about the "diabetes apocalypse." I know I'm not the only one, and in fact, we recently received a question to our CWD Answers section asking about what someone with diabetes could do if there were a zombie apocalypse.
I've been this way for the last 10 years since my daughter was diagnosed with type 1 diabetes at the age of three.
I think that it started during our diagnosis experience when we were still in the hospital learning about our new lives with diabetes. I realized that we would only be given a certain number of supplies each month due to our insurance restrictions and it never seemed like it would be enough. I worried about a "diabetes worst-case scenario" and what might happen if we started to run out of our supplies before we could restock the following month. What if we didn't have enough test strips to make it through?  What if we had a sick day and we needed to test more often? What if her vial of strips was accidentally opened in her tiny diabetes bag and she was playing on the school playground and all of the strips fell into a muddy puddle? So many "what if's" for the supplies that are needed to keep my child alive each and every month for the last 121 months.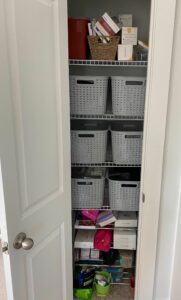 I used to see pictures on social media about people who worried about a "diabetes apocalypse" and who created stockpiles of supplies. Neatly organized diabetes drawers or closets that were overflowing with supplies. These people were prepped with overflowing test strips, meter batteries, CGM supplies, pump supplies, or pen needles and MDI supplies if the person wasn't pumping insulin. At the same time, I would hear cries from our diabetes online community about people running out of their lifesaving supplies before the end of the month, the cost of insulin or supplies that they had to pay for out of pocket. When the cries would happen, oftentimes, the "preppers" would step up and within a matter of hours, supplies were being packed up and shipped to the person in need with the hopes that it would hold them over until the next month when they could restock their own closet. Usually, there is no fee for this diabetes neighbor helping diabetes neighbor service…just a promise that you will pay it forward to the next person in need.
I started prepping my own supplies and planning for a "diabetes supply worst case scenario" after learning a trick from a wise Friend for Life who had been dealing with diabetes for many, many years. She told me to ask our endocrinologist to have our pump supply prescription written to "change every two days" instead of "change every three days." This wise person told me that this technique really helped to give her a bit of peace when it came to her worries about "running out of supplies." By having a few extra pump supplies per month, you don't have to worry about infusion set issues with kinked cannulas, or sick days when you need more insulin than usual and need to change your site more frequently. You can build up a supply for yourself and then once you feel sufficiently stocked up, you can help others! You can pay it forward and help those that aren't able to do the same thing due to insurance issues or for those that are newly diagnosed.
My supply closet is sufficiently stocked with pump supplies, glucometer supplies, and a variety of "luxury diabetes items" like over-patches and special tapes and sticky solutions and removers. Because I've been hoarding for quite some time, I routinely answer the
call to help others in need. You hate plastic cannulas and want to try a steel infusion set?  I'm your diabetes mom who can answer your call for help! Running low on Skintac or glucose tabs? Yep! I hear you. Help is on the way! I've been fortunate enough to have learned the system and have had good insurance that has allowed me to afford our supplies each month. I know that others in our diabetes community have been less fortunate and I'm glad to know that we have each other's backs.
Does my supply closet make me worry less about diabetes? No, I'm not at that level of diabetes momming…yet. However, it's nice to know that if the diabetes apocalypse happens, that I'm mostly ready to survive and keep moving forward. And, I'll make sure to bring you along with me, too!
---
Written by Leigh Fickling, MEd, MS, JD