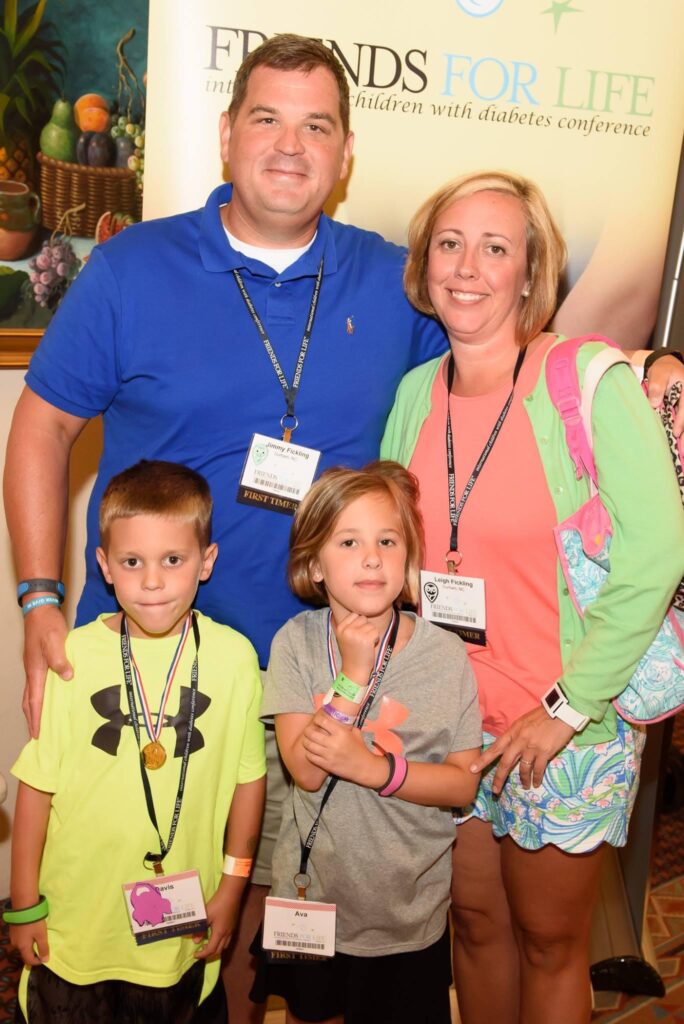 A message from CWD's Director of Development, Matt Point:
Dear Fiffles,
Thank you for your outpouring of support this week for our $15,000 Challenge! We told you that a generous CWD supporter has offered a $15,000 donation to Children with Diabetes IF we can do something we've never done before – receive 250 individual donations of at least $10 each this week! We need 58 donations by TOMORROW NIGHT!
Please help us by sharing and donating now. You can donate directly at cwd.is/match2020.
I had the opportunity to speak with Leigh Fickling this week, a CWD Staff and Faculty Member and mom of Ava (who wears a green wristband) and Davis (who wears an orange wristband). She shared this story with us:
"Orange and Green.

Two colors that don't mean much to many but two colors that mean everything to our family.

Orange and green creates a sign of recognition with 2,000 strangers on a hot summer afternoon in July in Orlando. Orange and green means that you've got a connection with the person next to you in the buffet line even though you've never met them before in your life. Orange and green means that when your CGM sensor starts to peel away at the pool that someone will quickly grab you more adhesive and get you back in the pool with your friends. Orange and green means that when you sit in the hallway with tears in your eyes after a session at a conference that another person will be right by your side understanding your feelings without saying a word. Orange and green means you've found your forever family.

Days, weeks, or months later, when the orange and green start to fade and the wristbands fall off, we're reminded that even though we are apart and the wristband isn't circling around our wrist anymore, we are always together thanks to Children with Diabetes and Friends for Life. Our Fiffles are the family that we never knew we needed and the family that will always be in our hearts. Until there's a cure … there's orange and green. There's Friends for Life."
Thanks, Leigh.
We all know that feeling of seeing someone else with the wristband your first time. Someone who understands. Someone who doesn't judge when you say the word "diabetes." They. Just. Know.
We're doing this campaign to create opportunities for more "green and orange friends" and for more chances to connect with other people who just … know.
Until there's a cure, there's Children with Diabetes.
In Friendship,
-Matt
Sincerely,
Matt Point
CWD Development Manager
[email protected]