Children with Diabetes has collaborated with the International Society for Pediatric and Adolescent Diabetes (ISPAD) for over 20 years. This collaboration has recently led to the development of a partnership to help foster the relationship between diabetes researchers and people living with diabetes and their families. As a part of this partnership, the CWD-JENIOUS Award was created to allow one young researcher from ISPAD attend CWD's Friends for Life conference in Orlando.
The ISPAD JENIOUS group is the "Juniors in Educational Networking and International Research Opportunities: United States," and is designed for young researchers who are starting to embark in their career. The awardee will present their project to FFL families with diabetes as well as attend the conference and activities in Orlando. This past summer, the first winner was selected and came to Friends for Life from Poland.
The awardee is chosen by the JENIOUS leadership and CWD leadership after careful review and discussion of the applicants' research proposals. Applications should be submitted by CWD's motto, "Focus on diabetes care today, expecting for a cure tomorrow."  Projects submitted are evaluated according to the following criteria:
Relevance
Innovation
Methodology
Feasibility
Impact
Dr. Arek Michalak was the first winner of the award in 2022. His project is evaluating knowledge and alcohol consumption habits of people with type 1 diabetes. His surveys are live and can be completed here, and his project is still ongoing. He was able to present a poster about his project to the families and attendees at Friends for Life Orlando 2022.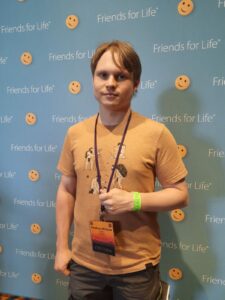 Here is what Dr. Michalak had to say about his experience at Friends for Life:
"Friends for Life 2022 was a wonderful experience on many levels. As a physician, I had a valuable opportunity to interact with an incredibly diverse type 1 diabetes community and witness their involvement with diabetes in real life, as well as earn some hands-on experience with various technologies. From a research perspective, the conference offered a thorough update on the current scientific advancements – and proved a great hub to meet other, more experienced scientists. And, finally, being a person with type 1 diabetes myself, I am grateful that I was able to experience this unique family-like atmosphere and meet so many like-minded people who might become my friends for life. I am immensely grateful for the JENIOUS-CwD Partnership that made all of this possible."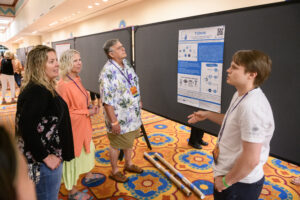 Authors of the best two proposals from this year will present their projects during the JENIOUS session at ISPAD 2022 (in person or virtually). Then ISPAD JENIOUS leadership and CWD's clinical director, Marissa Town, will announce the winner of the second CWD-JENIOUS Award. The session will be on Saturday, October 15 at 9:30 AM EST and CWD will post the winner once the announcement is made.
---
Written by Marissa Town, RN, BSN, CDCES