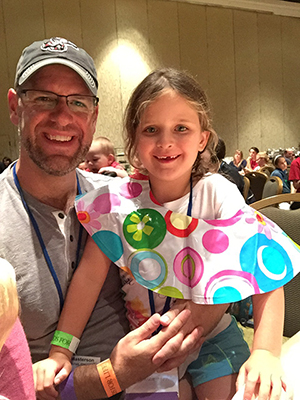 The bell tells us we are just above 10,000 feet; it seems far enough away from Orlando now to begin to process the last few days as part of Friends for Life 2016.
When your child is first diagnosed with type 1 diabetes, you feel shocked, disoriented, and alone: everything you thought you knew about your child's health and potentially his/her future is called into question, and chances are good you had no idea it was coming. There is now no plan. You might liken that moment to a venomous snakebite by the pool on your honeymoon: joy and freedom are suddenly compromised to immediate questions of life or death, in an instant you realize this journey is going to be far more perilous than you had planned for, and you can't shake the horror that the danger was laying in wait the whole time… you were just wholly ignorant of it.
Walking into Friends For Life for the first time felt like the antidote to that snakebite. As our escalator descended into the atrium, we saw a sea of parents and children running around below us, swarming with green wristbands indicating people with T1D, and all with an energy and exuberance that felt a world away from the hospital room or the clinic. We were awash in happy, smiling (and sometimes screeching) kids wearing the same CGM my daughter wears, carrying the same diabetes kit my daughter slings over her shoulder every morning on the way to school, and being chased by parents who I knew had woken up at midnight and three AM the night before to check blood sugar, just like I had. As we approached the registration desk, our eyes wide with the possibility of finding community and encouragement in such scale, we were greeted by a total stranger who asked with a warm hug and smile how old our daughter was and how long we have been living with T1D. A basket of glucose tabs waited on the welcome desk like mints at a fancy restaurant. A table of testing and low-BG supplies sat along the wall where I imagined the facility normally displays programs and badge-holders. Instead of "so, what do you do?" people greeted us with "how old is your daughter, and when was she diagnosed?"
These folks spoke our language; a strange creole of English and medicalese we had become fluent in over the last eighteen months in order to communicate with our new tribe. They rolled their eyes with us at the annoyances, they laughed with us at the diabetes-parenting-fails, they grabbed their hearts with us at the near-misses. They came from all over the world and spoke in accents I struggled at times to decode, but their words felt so very familiar, and more importantly the emotion behind them felt like my own.
Our weird little family of five divided-and-conquered throughout the conference, soaking in as much as content as we could. Together, we learned about breaking technology in diabetes care, how to think about the psychological aspects of various approaches, practiced life-saving interventions, explored and tried out new pumps and monitors, prepared for burn-out, traded war stories and advice with other moms and dads, and ate like kings. Our daughter met other kids with diabetes, did scavenger hunts, drew pictures of her future hopes and aspirations, did obstacle courses and played endlessly. Mostly, she made new friends… the kind of friends who can understand what it's like to get woken up to a finger prick or skip cake at a birthday party or to feel like a shadow of yourself because you didn't drink enough apple juice. She saw kids who wore devices like hers, carried kits like hers, and used words like "glucagon" and "ketones" that kids have no business knowing.
Nobody plans on Type 1. Hell, you can't even really plan once you have it; every day it changes, every day it tricks you, and just when you think you've got it figured out something changes. But when we got done with her final day playing with the other kids and the extraordinary adults who led them through the week, my daughter showed us a sheet of paper that asked one simple question: *What are your goals for the coming year?* She wrote, in her perfectly misspelled six-year-old scrawl, "To go to friends for life."
It's a plan.
Justin Masterson
CWD dad