Moms can calculate a carb count from 50 feet away, pull glucose tabs and juice boxes of out thin air when needed, and keep both kids with and without diabetes afloat with what looks like ease … but we know that parents do best when they're bolstered by their peers.  And here at CWD, we're big supporters of the moms and dads of kids with diabetes.
A few weeks ago, two moms from our Friends for Life family came up with the idea to host a Moms of Friends for Lifers virtual meeting, and almost 40 moms joined that first meeting.  Here's a screenshot of some of the MoFFLs!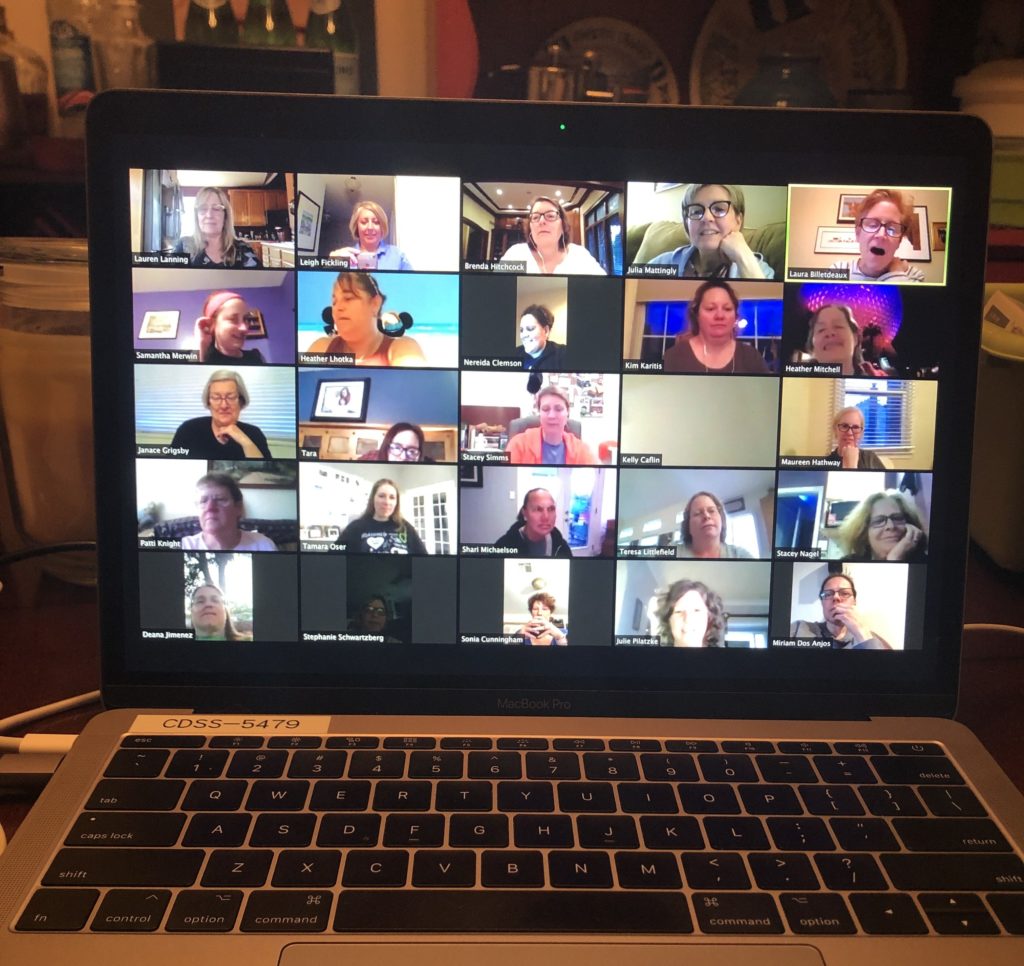 CWD mom and FFL faculty member Leigh Fickling helped coordinate the first MOFFL virtual meetup, and had this to say: "We had a great MOFFL Happy Hour last night. At the peak of the session, we had 39 moms on the Zoom call. Two of the MOFFLs had Disney themed Zoom backgrounds, which made us all smile and wish that we were together in Orlando. Many of the moms stated that it was great to be connected with each other and were happy to see each other's faces with the Zoom technology. Laura shared a brief update about registrations for Virtual FFL Orlando. We conducted a poll and the MOFFLs would like to have meetups every other week. We plan to have a theme for the next session  – tiara night or other theme dress night.  I think that the poll was a really fun way to generate discussion and common understanding during the session. It's hard for 39 people to talk at the same time but the poll allowed them all to click on their answers and then we could see the poll results together as a group. There were 'old-timers' and 'new MOFFLs' in the session. I had a TON of positive private chats during the session from moms thanking us for providing this opportunity for connection and normalcy. It was a terrific event. I am glad that I stayed up past my bedtime for it."
Lauren Lanning, CWD mom and part of the FFL Registration team, helped coordinate alongside Leigh.  She added, "I think the moms enjoyed it!!"
"The MoFFLs are an amazing community – warm, empathetic, funny, caring – and they have the BEST ideas," said Laura Billetdeaux, Vice President of Programming and Education at CWD.  "They love to share with each other, and they love to listen to and support each other. The MOFFL virtual meet ups allow this connecting to happen before and after the actual conference – all year, in fact. Moms need that 'other moms' connection. I'm proud to be a MOFFL!"
Our next MoFFL meet up will be scheduled soon; keep a close watch on our Facebook page for upcoming events, and thank you for being part of our family.