There.
I said it.
I said it in the title of this article and I mean it.
I am a diabetes mom slacker and I haven't prepared the first thing in our diabetes tool kit.
School starts in less than a week and I am totally at peace with my status in life right now.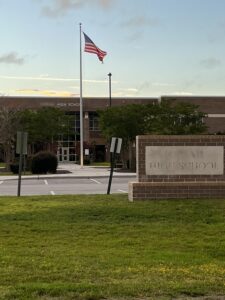 "Ten-years-ago Leigh" would never have had this level of "diabetes chill" and would have likely started the back-to-school panic the second that kids got out of school for summer vacation. In fact, that Leigh would be in a next-level panic right now because not only is school about to start, Ava will be starting HIGH SCHOOL next week. New school year…new school…new teachers…new bus route…new, new, new. And, yet, here I am with less than one week to go and I have made zero preparations. I haven't emailed the school nurse. I haven't emailed the teachers. I haven't started making bins and bins and bins of supplies. There have been no Amazon orders for tiny juice boxes. Literally, we are starting at the bottom. And, it's fine.
Over the last 10 years, I've learned a lot about diabetes. You see, my daughter was diagnosed at age three. She has taken diabetes to preschool, elementary school, and middle school. She's taken diabetes on field trips and to dances. She's taken diabetes to the softball field and to gym class. She's played a musical instrument with diabetes in band class. She's packed her lunch and she's attempted to eat school-provided lunch with her diabetes. She's been on multiple daily injections at school and she's been on an insulin pump at school. She's done all of the things and I've been right there behind her cheering her on the whole way. As we embark on high school, I know that things will be different, but what won't change is the fact that there is no greater diabetes cheerleader in Ava's life than me and I'm ready…even though I am not ready.
Thanks to my Friends for Life family, I have had the opportunity to learn from so many other diabetes families who have been there, done that, and back-to-school is one of our most favorite topics of conversation. I learned how to activate my "diabetes chill mode" from other diabetes moms and dads who have politely told me over the years to literally "chill out before you stroke out." For those of you that are struggling with back-to-school anxiety, I'd like to give you a few tips to help you as you plan for the academic year ahead. So, grab your coffee (or your wine) and let's get started!
Accommodation Plan
Diabetes is a disability under the Americans with Disabilities Act. You should request reasonable accommodations with your school district for diabetes-related issues during the school day. Some examples of accommodations that you may wish to seek might include: permission to use the restroom as needed, permission to keep your electronic devices with you at all times, permission to treat high or low blood sugars, as needed (and with the help of a trained staff person), and keeping a water bottle at your child's desk for easy access to water during the school day. When thinking about your accommodations, think about the non-traditional accommodations that you might need, as well. Do you have a plan for field-trips? What about before school programs or after school programs? Will your child ride the bus? All of these activities can be incorporated in your accommodations plan! Your accommodations plan may be called a diabetes health care plan or it may be a formal 504 plan. Regardless of the title, remember that this document is a living document and can be altered and changed if your condition changes or if there is a need for additional accommodations. Don't be afraid to advocate on behalf of yourself or your child. No one knows your diabetes like you do.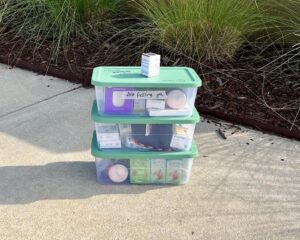 Supply Plan
You've likely already received your back-to-school supply lists but have you prepared your diabetes back-to-school supply list? Do you have adequate supplies in a portable size to address low blood sugars during the school day? Do you have a blood glucose meter or blood ketone meter with fresh batteries that can be used to check blood sugar at school? Do you have an updated prescription for glucagon and have you filled it at the pharmacy? Do you have a portable charger and extra charging cord for your insulin pump that you can throw into your backpack in case your pump battery goes low during the school day? Having a plan for these supplies will help you stay organized during the school year and will hopefully create less anxiety about the "what if's" that may happen during the school day.
Deep Breathing
The key to activating back-to-school "diabetes chill mode" is taking a deep breath and knowing that everything is going to be ok. Lean on your friends and family for support when your brain and your heart start to go into overdrive with worry about taking diabetes to school. If you don't have a support system of your own, join Children with Diabetes at our MoFFLs and DoFFLs virtual meet ups (insert links). There's a whole community of people just like YOU waiting to give you a virtual hug or high five and learn about how the school year is going. No two days with diabetes are the same and no two days with diabetes at school will be the same, either. Know that this process may involve trial and error until you get it "just right." You may need to adjust insulin levels due to activity at school. You may need to request that your child's phone be added to the school's WiFi if you are constantly losing signal. You may decide that packing a lunch from home gives you more control over lunch time carb counts than eating a school-provided lunch. It's all going to be ok. You can do this! I believe in you.
Here's to a great school year ahead! Now, I need to go "add to cart" and get ready for this adventure, myself.
Green and Orange Forever,
Leigh
Written by Leigh Fickling, JD, MEd, MS