While our team recovers from the fun and excitement of our first Virtual Friends for Life Orlando (VFFLO) event, held online last week, we took some time to reflect on what just happened, and why it matters.  CWD President, Jeff Hitchcock, and VP of Education and Programming, Laura Billetdeaux, shared some of their initial thoughts.
Laura said, "In the week or so prior to VOFFL, I could barely keep up with the number of people registering. I started to get nervous, wondering if the 'warmth' of FFL would – could – be felt by thousands of people when conveyed in this type of format. But I needn't have worried. It's not the format. It's not the place. It's the individuals – the FFLs of all ages – who convey the love and support to each other.
My favorite session was Shawn Shepheard's opening keynote. Shawn is such an engaging story-teller, and this was the perfect format for him to share the story of FFL! I loved hanging out at the Info Desk and also in the Fiesta Hallway. SO many first timers! Wide-eyed and 'where-do-I-go' at first, and then way more confident every day. Reaching out, making friends, asking questions, sharing phone numbers. I re-connected with old friends from Colombia, Italy, Canada, and the UK, and it felt like such a gift to be able to see their faces and hear their voices. And the dancing… oh, the dancing! Cupid Shuffle and the Billetdeaux clan (including the dogs) … everyone was up and dancing in the dining room on Saturday night! For the entire hour. So much fun!"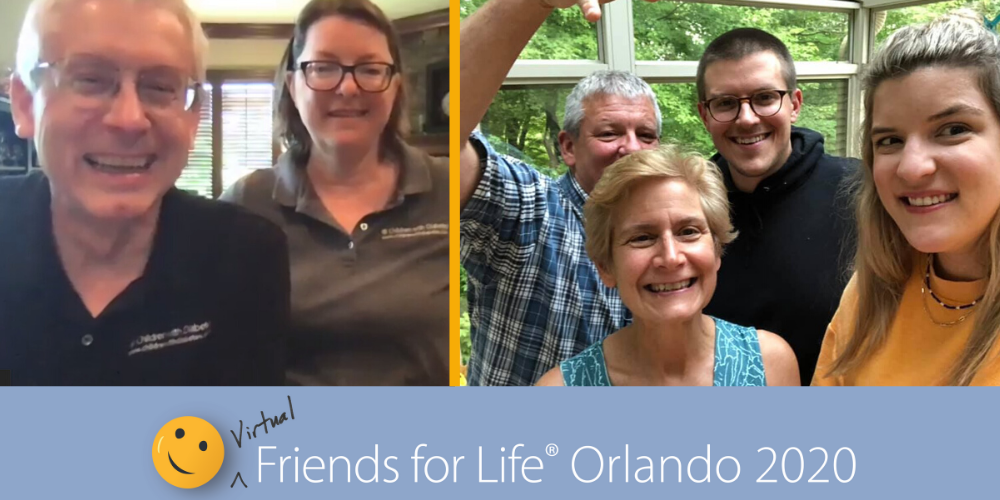 Jeff said, "Each year in Orlando, I find a quiet time to walk onto the stage in the Coronado Ballrooms and look out onto tables set for 2,000 people. I think about the families who will soon be filling the room, carrying their breakfast on Thursday morning or dinner on Thursday night, wearing their green and orange bracelets, meeting new or reconnecting with old friends. I think about the excitement, the joy, the simply indescribable experience of being with so many people who understand fully what it means to be a family with diabetes. It's liberating. It's comforting. It's the essence of Friends for Life.
This year, I could only look out through the screen of my laptop, set up on a table in my home, surrounded by two other laptops – a digital simulacrum of something grand. From my keyboard perch, I could 'see' people joining webinars and virtual meetings. I could watch the traffic surge as people from around the world took time to join us. I could worry as I streamed sessions, sometimes two at a time, out to computers and tablets and smart phones in the hands of people who were hungry to connect. And I would, on occasion, have to fix a problem in real time to make sure the kids and families could be with their friends.
Through this somewhat controlled digital chaos, I watched Virtual Friends for Life Orlando unfold. I watched the banquet play, knowing that hundreds of families were dancing in their homes. I listened to our wonderful faculty share their wisdom with parents and adults from the four corners of the world. I listened as our volunteers reported how well kids were enjoying their sessions. I saw families join sponsors in their booths, as eager to learn as they would be in person. And in the end, I saw families sharing the deep emotional connection they felt with their friends for life, a bond so powerful that it transcended the limitations of a virtual experience to bring real tears and laughter into homes everywhere. That is the true meaning of Friends for Life."
We'll have a full report about Virtual Friends for Life Orlando by the middle of next month!! In the meantime, please share your VFFLO experiences with our team by sharing stories or emailing us at [email protected].  We can't wait to hear about your experiences!