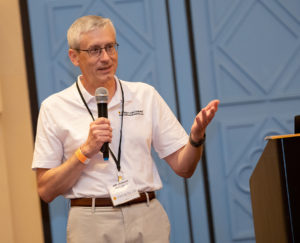 Jeff Hitchcock, founder and president, began Children with Diabetes in 1995 in response to his daughter Marissa's diabetes diagnosis at the age of two. The idea was — and continues to be — to share experiences with other families, so that together, we can all make a difference in the lives of everyone living with type 1 diabetes.
And since our website went live in 1995, we've been an integral part of the diabetes online community. And today,  we're proud to be launching our new online space. Welcome! Over the next few months, we'll be rolling out many new features at ChildrenWithDiabetes.com, including information on new diabetes research and technology, sharing our advocacy and outreach efforts, and continuing to connect the diabetes community.
"I look forward to a new generation of families finding Children with Diabetes and learning how to thrive with type 1 diabetes," said Jeff. "Our mission from the beginning in June of 1995 has always been to make a difference, and we will continue to do so through our embrace of this new technology platform. Our new web presence will better meet the needs of families living with type 1 diabetes — both children and adults — and will better serve mobile device users. And we'd like to thank the Lilly Grant Office for their generous support for this effort – we couldn't have created our new space without their help. "
"Twenty years ago, I came home from the hospital, turned on the computer, and connected with a small website called CWD. I was exhausted, terrified, and felt totally inadequate to the task of keeping my newly-diagnosed 8 year old alive," said Laura Billetdeaux, VP of Education and Programs at Children with Diabetes. "Within seconds, parents in CWD's Friends network responded. "You're going to be ok." Quite honestly, those were the only words I needed to read that night … over and over.
Twenty years later, those are still the words I need to read most often when I turn to CWD for information and support."
"After nearly 24 years online," said Jeff, "CWD is moving forward to embrace the latest technology to continue to make a difference in the lives of people living with type 1 diabetes."
We hope you enjoy the new CWD look. We'll be adding new content regularly, so please check back often to see what we're working on.