Friends for Life is an experience that can be difficult to describe; the closest that I can come up with is "diabetes camp on steroids," but it doesn't truly capture all the magic that happens every summer during Friends for Life Orlando. When Friends for Life started, the idea was for families to come together who really understand what life with diabetes is like. What it has become is something uniquely tailored for people with diabetes and their loved ones.
Making Connections
One of the main goals of CWD (Children with Diabetes) is to help people feel supported in their diabetes management journey. We hope that people can find their network of "fiffles," or friends for life, who help them on hard days and celebrate on the days when you have a "no-hitter." When you live with diabetes, it can feel like you are fighting a battle that you won't ever win. There are days when you will want to give up, when you would trade anything to not have to have diabetes in your life. But it will be there, even if you pretend it isn't.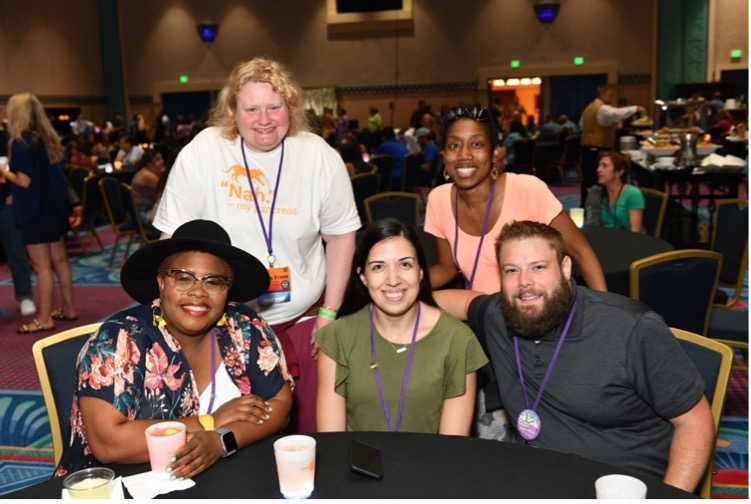 So, what do you do? In my life, I have found that commiserating with someone who really gets it is the best way to help me maintain resilience. Having my struggles validated by a friend with diabetes makes me feel like I can keep trying – because I know we are in it together. This is one of the biggest goals of Friends for Life conferences-fostering human connections, to help you find your diabetes buddies that you can text or call on your bad diabetes days, and to help each other keep on keepin' on.
A Learning Experience
After the conferences started, CWD founder and knowledge enthusiast Jeff Hitchcock began networking with people who work in diabetes. This included endocrinologists, Diabetes Educators, diabetes device companies, etc. He was able to attend some of the professional conferences that those experts attend year after year and saw the huge potential in bringing that same experience to families and people with diabetes. After all, we are the ones managing diabetes all the time – we only see them for a tiny fraction of time in the scheme of things. So, why shouldn't we have access to the same information?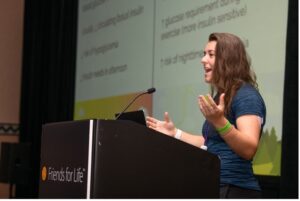 Jeff sought out the experts in the field and told them about this little event he and CWD mom Laura Billetdeaux were going to host in Orlando in July, and as the saying goes, the rest is history. Every year CWD brings a group of diabetes experts from around the U.S., and even some from outside of the U.S., to share their knowledge with families and people with diabetes. The programming for FFL includes sessions about latest and upcoming research, navigating insurance, preventing diabetes burnout, parenting kids with diabetes, and countless other topics.
We have a track for grandparents/other caregivers so that they can get hands-on and in-depth training and, therefore, provide extra support to the primary caregivers of children with diabetes. We have youth programming for all ages where the kids make their own connections, discuss their feelings about diabetes – whether they have it or live with someone who does, and do lots of interactive activities that are educational but also fun. The teens have a day that they go out of the hotel and practice using all the skills they learned at the conference to manage their blood sugars. (Don't worry, it's with the supervision of clinical diabetes care and education specialists. 😊 )
Feeling Normal
It's also hard to describe how you feel different even though you have what is known as an invisible disease. You're still making all kinds of decisions about everything you eat, do, and think about eating or doing. Sometimes people can see that you have diabetes, and you're tired of answering diabetes questions, and you just want to be like everyone. This is a very common human experience, and the feelings of wanting to blend in are valid. But when you're at Friends for Life Orlando, you're at the largest gathering of people with type 1 diabetes in the world, and you're normal.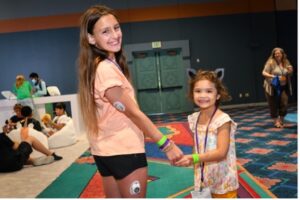 You're so normal, in fact, that the kids and people without diabetes have FOMO (FOMO = Fear of Missing Out) this time. Siblings of kids with diabetes wear demo pods to make it look like they have diabetes, too. It's an experience that is hard to replicate. There are places like diabetes camp where you are one of many others with diabetes, but at Friends for Life, your family is with you, and they get to see what it's like for you. They will learn more about diabetes and others' lived experiences and come out with a different perspective.
Who Comes to Friends for Life?
It used to be that the majority of FFL attendees were children with diabetes and their parents, but over the last few years we have seen a big shift and now there are more adults with type 1 diabetes that come than children! People come from all over the U.S. and the world, and usually more than 1/3 of the attendees are First Timers, meaning they have not attended a Friends for Life Conference before. Here is some information from FFL Orlando 2022: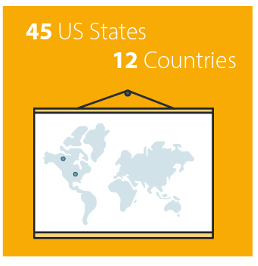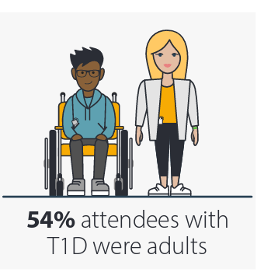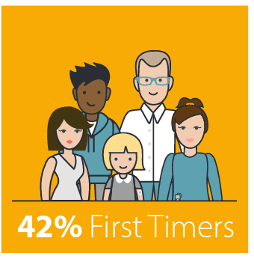 How Do Attendees Like Friends for Life?
When we surveyed people who attended the conferences in 2022, one of the biggest things we saw was that 85% of people who responded (117 out of 138) felt more confident in their ability to manage their diabetes after attending Friends for Life. We had no idea that the answer was going to be overwhelmingly positive and are SO happy that we were able to help people feel more confident in their diabetes care! Whether this is due to the knowledge gained, the support received, or us doing the carb counts for people for a few days, we hope this has made their lives just a little bit easier.
People enjoyed FFL in many different ways, and there were also constructive comments which we hope will help us continue to improve the FFL experience! As we at CWD say, Until there's a Cure, there's Friends for Life. For more information, sign up for our free virtual Question and Answer session on 6/6/23 at 7 PM EST.
---
Written and clinically reviewed by Marissa Town, RN, BSN, CDCES