Being Different Isn't the End of the World!
I don't ever remember a life without diabetes. Some people might say that's good, though. I certainly didn't have a sudden lifestyle change when I was a child or even worse a teenager. I was diagnosed with type 1 diabetes when I was just 18 months old. I just turned 13 this month, though, so I'm inclined to agree that a lifetime of diabetes so far is better than trying to change it all up at this age! Diabetes is an "invisible ailment," so I know a lot of people, even those that know me pretty well from school, may not realize just how much it takes for me to stay healthy. That's a blessing and a curse sometimes. I'm a competitive springboard diver and, of course, the physical activity impacts my blood sugar. I've definitely had some hypoglycemic episodes during training and competitions that really could have been a disaster if I didn't have such a strong support system. I know that a lot of children and teenagers hate the idea of anything that makes them different from everyone else, and a chronic disease like diabetes is definitely a difference.
But… being different isn't the end of the world! In fact, my mom tells my little brother and me all the time that being normal sounds awfully boring. I really couldn't agree more! My diabetes might not be the best part of my existence, but it's certainly never gonna hold me back from my goals!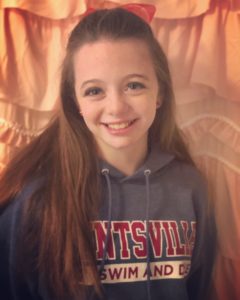 I'm Ainsley Faith. I live in Northern Alabama with my mom, dad, little brother, and 2 very fluffy cats! I've been a type 1 diabetic since I was 1, but it hasn't stopped me from being an active middle schooler- I compete springboard diving for my private club and already get to compete for a local high school, am on my school's academic team, am a soloist in my school choir, stay active in my church's youth group, AND volunteer with my local hospital when I can!
Do you have a story to share about your experiences with diabetes? We want to hear from you! Tell us your story using the form below and we'll consider it for inclusion in the CWD Stories section of our website.