Breathe!
Breathe. Increase your cadence. Relax your shoulders. Breathe. Correct your foot plant. Don't look at your distance. DON'T LOOK AT YOUR DISTANCE! Breathe. Wow, this hurts. Almost there. Breathe.
These were the thoughts that consumed my mind as I was closing out my first marathon. At mile 20 of 26.2, I was hitting the dreaded "wall" of exhaustion. I had paced way too fast for the first 2/3 of my race and now faced a merciless 6.2-mile uphill incline all the way to the finish line. In those moments of leg numbing misery, I questioned whether or not I could complete this marathon that I had been training for over the previous summer. I was on the verge of crying and throwing up when suddenly I remembered some extraordinary advice from one of my coaches: forget all the past miles and suffering and focus on what was ahead. After several introspective strides, I emptied my head of the hours of running I had just done and approached my final 6.2 miles as if it were a completely new race. A fresh start to a strong finish.
With my new mindset, I conquered my goal of running a marathon, all while coming in under 3 hours and 30 minutes. Not dwelling on the past helped me cross that fateful finish line.
This mindset instilled by my beloved coach is something I apply to my diabetes management. I was diagnosed with type 1 diabetes on my ninth birthday. There have been many bad A1C reports, tough endocrinology appointments, moments of self-doubt, and scary nights of low blood sugars in the 16 years I have had T1D (me being 25 years old now). It is so very easy for me to think about the things I have done "wrong" as a patient with T1D. But, just like my marathon mindset, I need to learn from and let go of my past as a long-time patient with diabetes. The best way for me to take care of myself is to acknowledge that each day is a new day for me to make healthy decisions towards managing my lifelong condition.
Diabetes is like a marathon. It is a long-term race filled with consistent training, mental toughness, and acute physical awareness. As a runner with T1D, I am dedicated to inspiring others with diabetes to accomplish difficult feats like running a marathon. This fall (2021), I will be running the 125th Boston Marathon. This comes at a special time with it being the 100 year anniversary of the discovery of insulin.
So, if you are someone who is impacted by diabetes, know that your past doesn't define you. What matters is how you go about your future. Find your coach, stay strong, and most importantly, keep going.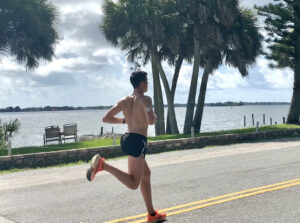 Do you have a story to share about your experiences with diabetes? We want to hear from you! Tell us your story using the form below and we'll consider it for inclusion in the CWD Stories section of our website.