Douglas Larsen
I was misdiagnosed in 1997 with type 2 diabetes because of my age being in my 30's. It took struggling for three years without insulin and numbers always in the 250's to 350's before I could get my doctor to get me an appointment with a endocrinologist to start insulin. She took one look at my doctors report and my numbers I had keep for a week and told me I was misdiagnosed and I am late set type one diabetic. I had to have the tests done to have my insurance allow me to have insulin at all. Within three months my A1C numbers went from 12.5 down to 8. The last six years I have been on a pump and A1C is down to 6.8 and loving life.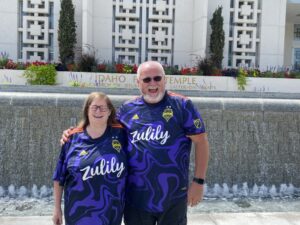 Douglas Larsen received a 25 Year CWD Journey Award
Do you have a story to share about your experiences with diabetes? We want to hear from you! Tell us your story using the form below and we'll consider it for inclusion in the CWD Stories section of our website.