Family Connection to Sir Frederick Banting
Some people grow up aware of diabetes because they know someone or know of someone who lives with it. Sometimes it is a relative or a friend of a friend. Or someone's aunt's cat.
My relationship with diabetes is unique.
Long before my diagnosis, I was connected to diabetes and the discovery of insulin.
My relative (second cousin, three times removed) had a brilliant idea on October 31st, 1920, that that ultimately lead to the use of insulin to treat diabetes. He, along with his colleagues, is the reason I am (and millions of others are) here today.
My age at diagnosis found me slipped through the cracks.
I lived with diabetes for nearly two decades before meeting someone like me. Someone who could relate to the highs and lows that come with managing a chronic illness that operates 24/7. Someone who knew what it was like to have the side hustle of full-time pancreas. I had no idea there was a whole world of diabetes things until I was 37 years old.
Finding that community is part of the reason I am still here today.
That newfound space, the diabetes sphere, has brought both comfort and camaraderie. It is a place I turn to for encouragement, empathy, and understanding. It is where I go in search of insight and inspiration.
And it is where I found my voice.
Diabetes is an enigma. Not just to the general population but to those of us who live with it. The days are often peppered with mystery. Sometimes the solution is clear (juice box or insulin) and sometimes we are left guessing. That is why it is so important to share our all our experiences. I hope my honest portrayal of my journey with diabetes shows people there is something truly remarkable about being a full-time pancreas even in a seemingly ordinary life. And that it resonates with someone out there, making them feel a little less alone.
This year commemorates 100 years of insulin.
That is 36,500 days. For nearly a quarter of them, I have lived with diabetes. And I am grateful for every single one of them. And for all the amazing people I have met (and continue to meet) on the way.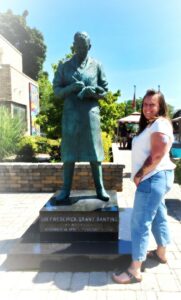 Hi, I'm Rebecca. I am an author and artist, in Ontario, Canada. I am a mom, a bookworm, and a lover of the outdoors. My familial connection to Sir Frederick Banting, as well as my own journey with type 1, drives my advocacy within the T1D community and beyond.
Do you have a story to share about your experiences with diabetes? We want to hear from you! Tell us your story using the form below and we'll consider it for inclusion in the CWD Stories section of our website.