Making Lifelong Friends
My son Brady was diagnosed with type 1 diabetes seven years ago. It was the worst weekend that our family has ever experienced. It was tragic enough that my 2.5 year old son was lying there wondering what was happening to him but little did we know this was just the beginning.
While we were meeting our dr. For the first time I received a phone call from my father-in-law telling me our house had burned down. Not only were we dealing with our sons diagnosis we are now homeless and our lab of 10 years and our cat of 15 years perished in the fire as well. We to say the least were devastated. Thankfully we were insured and we both had good jobs . we knew we had to be strong for the kids and slowly rebuilt our lives but little did we know what was in store.
Brady is now 10 and not only a very good athlete but a straight A student! He has turned into my rock, my everyday hero, and my best buddy! We do everything together! We have met so many lifelong friends through his ailment because of this conference. This is our fourth year here and not only has it helped us cope and deal with this but we watch him take command of this and grow knowing he's no different than anyone else and accepted without question or doubt. We thank each and every person involved to make this conference happen and hope to be a part of it for many years to come!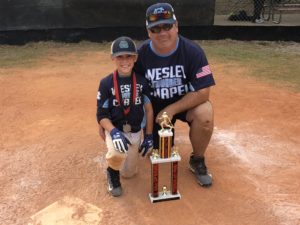 Brady is 10 years old. He's is an all-star baseball player and plays on the advanced team as well. He loves cooking and cooks for the family often! He is a straight A student.
Do you have a story to share about your experiences with diabetes? We want to hear from you! Tell us your story using the form below and we'll consider it for inclusion in the CWD Stories section of our website.