Miss Amaya Calderon
Amaya was diagnosed at six years old, just starting school. She was in kindergarten. I remember when we were at the hospital, and she was taking all of this in like a champ, while I was crying my eyes out. It broke my heart when we were getting ready to leave the hospital and she asked if she was cured, and no longer had diabetes. By the end of the year she was put on a Dexcom, and finally an insulin pump, after 10 months of being on syringes. At her she was so excited about her new pump and her Dexcom. She even spoke at her school for a JDRF pep rally fundraiser. However, She then went through years of being ashamed to even show these things to other people. Finally, at the age of 13, she no longer felt ashamed, and started wearing her pumps and places that people would see it. During the pandemic, she took ownership of it, and began changing her on pump sites, and monitoring her blood sugar. Where most teenagers rebel against their diabetes, my daughter took it on And has been amazing. After having her diabetes, for eight years, we moved overseas to Germany due to my husband, being in the military and receiving orders. Receiving care here, is very different from the United States, and it has definitely had a struggling times. I will say that over the past almost 10 years, my daughter has shown so much strength, bravery, and resiliency. Through all of the doctor visits, the hospital stays, the blood sugar, checks, and juice boxes in the middle of the night, and, of course, the constant questions from people. She is quite literally, my hero, and I am so proud of her, and so proud to be her mom.
-Katelynn Calderon, mother of Amaya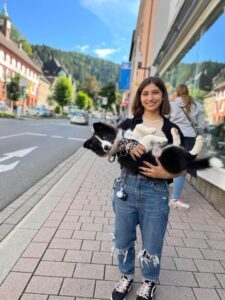 Miss Amaya Calderon 10-Year Journey Award Recipient
Do you have a story to share about your experiences with diabetes? We want to hear from you! Tell us your story using the form below and we'll consider it for inclusion in the CWD Stories section of our website.