Pay It Forward
I've been living with T1D since 1983. My sister was diagnosed six months prior and now her daughter and grandson are all in the T1D family. My first 10 years were pretty bad. My A1C was around 10% (which apparently isn't perfect) and the BG roller coaster swings rivaled Disney's Space Mountain.
The thing that saved me was the diabetes community. The friends who have been there and done that and are wearing the same t-shirt (sometimes literally). It's the community of friends that make the T1D journey bearable. It's a community of love and support that pays it forward every day without hesitation because we all know how difficult it is to live with this disease.
I am honored to be part of the Children with Diabetes board and to participate in the Friends for Life conferences. I wish they existed in 1983. I know that we are shortening the learning curve and cycle of pain for many families. I know that FFL makes a unique difference unlike any other camp or conference experience. It is inspiring to see the children thrive, the families learn and the hundreds of volunteers make it all happen.
It is a great way to pay it forward. Care Today. Cure Tomorrow.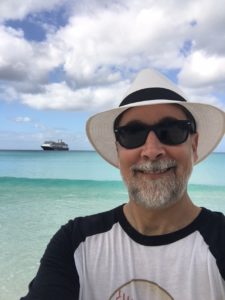 George Huntley is the Chief Operating Officer and Chief Financial Officer of Theoris Group, Inc., a professional services and software company based in Indianapolis, Indiana, with offices throughout the US and Europe. He has been living with type 1 diabetes since 1983 and has been an active volunteer in the fight against diabetes since 1986. George has held many leadership roles with the American Diabetes Association including Chair of the National Board of Directors. George is a founding member and current officer of the National Diabetes Volunteer Leadership Council, a 501c3 organization dedicated to patient advocacy to improve the quality of life for people living with diabetes. George also serves on the board of Children with Diabetes.
Do you have a story to share about your experiences with diabetes? We want to hear from you! Tell us your story using the form below and we'll consider it for inclusion in the CWD Stories section of our website.