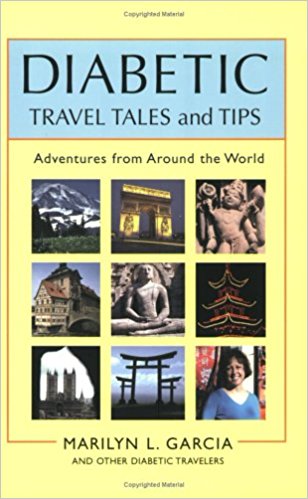 Diabetic Travel Tales and Tips
Marilyn L. Garcia
From Hong Kong to Madrid, Paris to Santorini, Marilyn Garcia has seen the world. And no matter where she travels, even in this post-9/11 era, she carries sharp syringes, blood-testing lancets and vials of insulin. Travel isn't easy for Garcia, a type-1 diabetic since childhood—but travel she does. In her new book, Diabetic Travel Tales and Tips: Adventures from Around the World, Garcia writes about both the joys of travel and the challenges of being an insulin-dependent traveler. She also includes tales from other diabetic adventurers—including Catherine Elliot, who, during a trip to the Indian state of Gujarat, danced in the Hindu Navaratri Dance Festival and roughed it on a rice barge down the canals of Kerala. Writer Denise Little keeps readers laughing with her story of a malfunctioning insulin pump that set her bra to vibrating at just the wrong time during a business trip. Diabetic Travel Tales and Tips will entertain, inform and, most of all, inspire the millions of people who live with diabetes, either in themselves or in family members. Adventurers and armchair travelers alike will love the tales of walking through the Tuscan countryside, searching for insulin in Paris, surviving an accident on a train trip to Prague, coping with skyrocketing blood sugar brought on by Chinese noodles, and getting stuck in the middle of nowhere in Granada. In the story "The Trip I Didn't Take to Mongolia," Garcia admits to one adventure that turned out to be just too risky—so her nondiabetic husband and son went without her, and her son writes about the ensuing journey. The first part of the book comprises the travel tales, while the second features the tips. Here you'll find the information no traveling diabetic can be without, including: • Adjusting insulin doses to time-zone changes • Dealing with airport security • Buying medicine in foreign countries • How exercise and travel affect blood sugar • Scheduling meals • Traveling to remote destinations This section also includes a tremendously helpful list of translations of essential phrases for diabetic travelers, into Spanish, French, German, Italian, Russian, Japanese, Chinese and Greek. Now that 18 million Americans have either type-1 or type-2 diabetes, more and more diabetics are traveling the world. Diabetic Travel Tales and Tips will be the essential book they look to for inspiration and information.
So you have diabetes and want to travel? Not a problem. You're in Paris, have lost all of your insulin and don't speak French? Not a problem. Want to read some fun stories and get some good advice from an experienced traveler with diabetes? Then Diabetic Travel Tales and Tips is for you. If you like to travel, then it's always fun to read about traveling, and Marilyn Garcia's book is no exception — other than that her book is about traveling with type 1 diabetes.
Part I of the book is filled with travel stories. Part II is filled with travel tips. For the traveler with diabetes, this is a good addition to the home library.
Published by Mandean Press. $13.95. ISBN 0976698501.2005