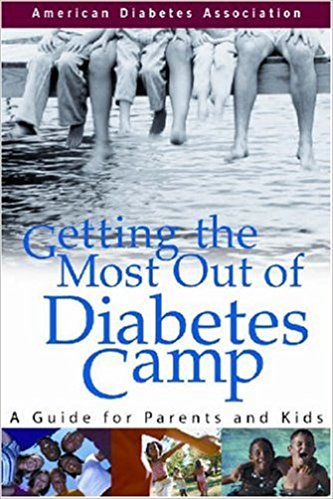 Getting the Most Out of Diabetes Camp: A Guide for Parents and Kids
American Diabetes Association
Along with anecdotes and stories from campers, Getting the Most Out of Diabetes Camp covers topics such as why go to a diabetes camp, is your child ready, which camp is best for your child, what to expect, what not to expect, how to evaluate your child's experience, and more.
Diabetes camp is, for most kids with diabetes, an enormously positive experience. Camp is often the first time kids with diabetes meet other kids who have diabetes. Everything about diabetes is the norm at camp — blood tests, glucose tablets, insulin injections, pumps, and carb counting. Kids mostly have a great time, but also learn from older, more experienced kids about living and succeeding with diabetes. Getting the Most Out of Diabetes Camp: A Guide for Parents and Kids offers parents and kids an overview of what to expect at camp. There is a brief discussion of the types of camps (weekend retreats, day camps, and resident camps) and how to decide which best meets the needs of your child. If you're anxious about the benefits of camp, this book offers enough information to help you make a decision. (CWD strongly encourages kids to attend diabetes camp.)
There are some notable omissions in this book, however. In the listing of camps, no mention is made of the extensive diabetes camps pages at this web site, the Diabetes Camping Association web site, or information about many camps that are not run by the American Diabetes Association. The only web site address provided is to a non-existent page with the ADA web site. Readers are encouraged to consult their diabetes team for recommendations of camps in their area, and even to consider camps in other states.
Pubished by the American Diabetes Association. Paperback, 106 pages. $14.95. ISBN 1-58040-142-2.2002