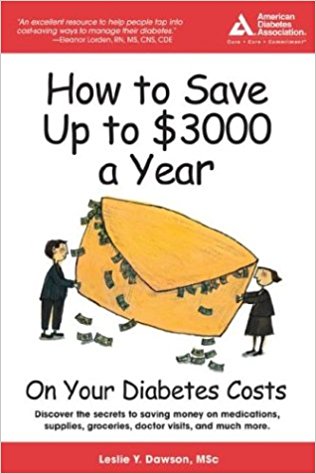 How to Save Up to $3000 a Year on Your Diabetes Costs
Leslie Y. Dawson, MSc
Diabetes is riddled with expenses–but within this book are the best ways to save on those expenses when living on a low income. Completely updated to address current topics and issues that reflect our changing society and health care needs, it includes information on:
Ways to slash food costs
Government assistance with medications
Specialized prescription discount cards from drug companies
How to save on syringes and test strips
Staying healthy with diabetes can be expensive, and that can present a significant challenge for anyone who is struggling to make ends meet. Leslie Dawson, who has had diabetes for 25 years, has written an excellent book filled with ways to save money while still staying healthy. Her guidance covers everything from strategies to save money on blood glucose monitoring (check a lot when you're ill and less when you're not) to sources of medical and financial aid to surviving homelessness with diabetes. If you, a family member, or a friend has diabetes and are struggling with the costs of staying healthy, getting this $8.95 book could be the best investment you ever make.
Published by the American Diabetes Association. Paperback, 210 pages. $8.95. ISBN 1-58040-169-4.2004