Goedemorgen! The Children with Diabetes team has just returned from Rotterdam, Netherlands and the 49th Annual ISPAD (International Society for Pediatric and Adolescent Diabetes) Conference. We've had an amazing week connecting with our best diabetes Friends for Life in Europe and can't wait to tell you all about our experiences abroad. Grab some french fries with a side of sweet ketchup and mayonnaise and let's recap ISPAD 2023!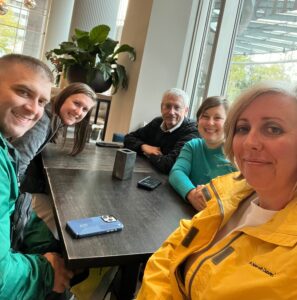 Rotterdam, Netherlands
The CWD team left different parts of the United States and flew overnight to Amsterdam, Netherlands. We were excited to connect in the Amsterdam airport, grab our luggage, and then hop on a train to Rotterdam for the conference. Knowing that we would be a bit jet lagged upon our arrival, we spent our first day unpacking our bags and exploring Rotterdam. The city was so clean and crisp! There was no trash or litter anywhere in sight! I was amazed with the amount of bike riders and the ample bike lanes throughout the city. The people that live in Rotterdam speak Dutch or English and most of the signage in the city is written in English. Our hotel was directly across the street from the Rotterdam Centraal train station and tram station. Public transportation was easily accessible and we enjoyed riding the train and the tram during our visit. There were many cute restaurants and shops that line the streets of Rotterdam and you could find any type of cuisine that your heart desired. We learned that the Dutch love french fries and throughout the week, we enjoyed sharing a big order and sampling different dipping sauces. The hotel was located next door to the De Doelen Convention Center where the ISPAD conference was being held, so it was quite easy to navigate from the hotel to the conference. Some of our other favorite things about Rotterdam included visiting the famous yellow cube houses, art museums, and looking for unique souvenirs to bring home to our friends and family.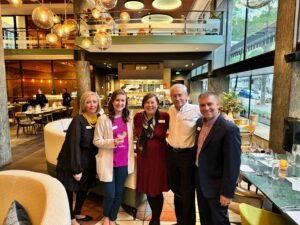 ISPAD 2023
The motto of the 49th Annual ISPAD Conference was "Pediatric diabetes in a rapidly changing world." The program was designed to cover all aspects of pediatric diabetes and included discussions on research and clinical developments with leading investigators and clinicians. The conferencefeatured concurrent sessions, Q&A sessions, panel discussions and Meet the Expert sessions. Additionally, there was a poster exhibition area where presenters were able to discuss research findings with attendees. The conference exhibit area featured familiar tables with sponsors and partners sharing information about their products and organizations. ISPAD hosted a welcome reception and networking space that allowed attendees to mix and mingle with their friends in a warm environment. The conference concluded with a networking and recognition dinner where attendees could continue important conversations with colleagues, new and old, and make plans for follow-up once returning home.
JENIOUS-CWD Award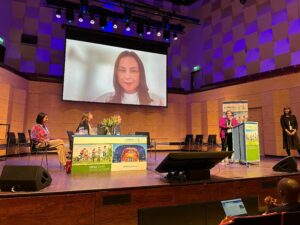 During the conference, Marissa Town, CWD's Clinical Director, selected the winner of the JENIOUS-CWD award during a session on Thursday, October 19. The ISPAD JENIOUS group, together with Children with Diabetes, invited project proposals that "Focus on diabetes care today, expecting a cure tomorrow." The submissions were evaluated based on the categories of relevance, innovation, methodology, feasibility, and impact to the diabetes community. The award is an invitation from CWD to attend the annual Friends for Life Orlando conference in July. The award winner will share their research proposal with FFL attendees. Authors of the two best project proposals presented their projects during the JENIOUS session at the ISPAD Conference. This year, the two finalists were Valentina Mancioppi, from Italy, and Mariana Zorron, from Campinas, Brazil. Valentina's topic was on the "Efficacy of advanced hyrbrid closed loop systems in children and adolescents with Type 1 diabetes during sick days." Mariana's topic was on "Mindsweet: Mental Health Investigation in Diabetes: A Sweet Perspective." The winner of the award was Valentina Mancioppi. Congratulations, Valentina! Welcome to the CWD family! We can't wait to see you in July 2024 at Friends for Life Orlando.
PWD Perspective Session

Marissa Town also presented an educational session on Friday, October 20 on diabetes perspectives as a person with diabetes as a member of the ISPAD faculty. This session received rave reviews and attendees appreciated hearing about how Marissa's experiences have changed over the course of the last 34 years as she has lived with diabetes. Marissa offered words of guidance and wisdom to clinicians and practitioners with the hope that they would gain a greater understanding of what it is truly like to live with diabetes. We are so proud of Marissa for this amazing session and for her expertise in the field of diabetes!
CWD Events
On Wednesday evening, October 19, CWD Events hosted a dinner and presentation on the topic of Screening and Prevention of Type 1 Diabetes. This event was sponsored by our friends at Sanofi and featured a lecture by Dr. Linda DiMeglio of the Indiana University School of Medicine.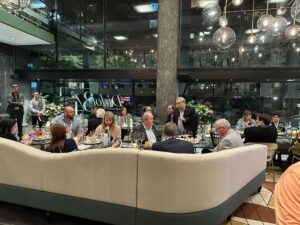 Over 60 attendees joined us for a delicious meal and fascinating conversation at The Slaak, Rotterdam. CWD Events are designed to bring together the "who's who" of the diabetes community in a comfortable and enlightening atmosphere. In addition to the very important topic of screening and prevention of diabetes, attendees spent time conversing with each other and building strong partnerships that will extend far beyond the conference week. These events are some of my favorite parts of our international travels and I always look forward to this opportunity to have a more intimate conversation with attendees and sponsors.
Tot Ziens, Rotterdam
After a busy conference week, it was time for the CWD team to begin our return to the United States. It was terrific to see so many of our Friends for Life in Rotterdam. The ISPAD leadership team did an amazing job of curating an event that helped attendees look to the future of pediatric diabetes care. I'll miss casually lounging in the hotel lobby and spending my day hugging and greeting familiar faces in the world of diabetes. Oh, and I will miss the french fries, too!
Green and Orange Forever,
Leigh
Written by Leigh Fickling, JD, MEd, MS