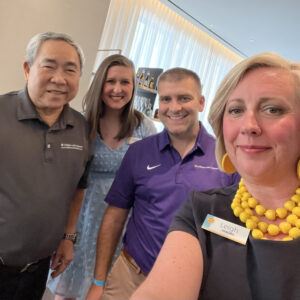 Howdy friends! The Children with Diabetes team had the opportunity to attend the Association of Diabetes Care and Education Specialists (ADCES) Annual Conference in Houston, Texas last week and we can't wait to share with you some of our highlights from the event. This year's annual conference was held at the George R. Brown Convention Center in Houston and featured four days of continuing education, keynote speakers, hands-on workshops, and a giant exhibition hall. This year's annual conference also helped to celebrate 50 years of advancing diabetes care and education with ADCES! So, grab your coffee, throw a load of laundry into the washing machine, and let's recap ADCES23.
As a first time attendee at an ADCES conference, I wasn't sure what to expect and was excited to learn more about this event. Before leaving for Texas, I learned more about the conference objectives and spent a good deal of time reviewing the schedule of events. I also spent time checking out the Exhibitors and got excited about visiting the Exhibit Hall. I understood that the conference brings together clinicians, researchers, and industry leaders to address key issues affecting people with diabetes, prediabetes, and other cardiometabolic conditions. Children with Diabetes fit right into the targeted audience since our goal is to help people affected by diabetes live their very best lives and thrive. The scheduled sessions focused on the latest advancements in technology, self-care behaviors, program management skills, clinical therapeutic approaches, and more. So, I packed my bags and my best walking shoes and headed off to Houston to meet my CWD Colleagues.
Celebrating a CWD Board Member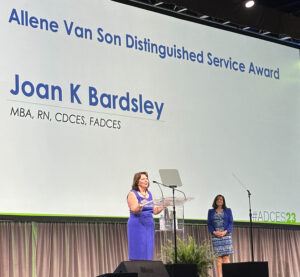 On Friday, August 4, 2023, at the ADCES Opening General Session, CWD Board of Directors member Joan Bardsley was recognized as the 2023 Allene Van Son Distinguished Service Award recipient. This award recognizes outstanding volunteer and leadership contributions and service to the Association of Diabetes Care and Education Specialists. The CWD team had a front-row seat to this session and we were in the perfect position to cheer on one of our very best Friends for Life as she was honored with this award. Congratulations Joan! We are so proud of your long-standing dedication and commitment to the lives of those people affected by diabetes.
Searching for Friends for Life
Throughout the weekend, the CWD team searched for our Friends for Life. We visited with our generous sponsors and industry partners in the Exhibit Hall and we made connections with some new-to-CWD potential exhibitors, as well! We looked at ADCES conference signage and found the names of some of favorite faculty members and made sure to take pictures with their names! During conference social hours and breaks, we visited with our friends in the hallways of the convention center and enjoyed these 1:1 opportunities to have meaningful conversations.
CWD Events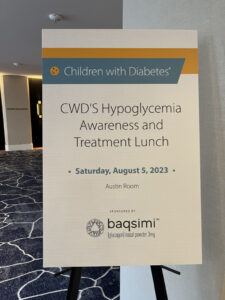 At ADCES23, CWD Events hosted two sessions for conference attendees. On Friday evening, CWD Events hosted a reception for Health Care Professionals.  This invite-only event, sponsored by our friends at Provention Bio, was held at the Toro Toro Restaurant in the Four Seasons Hotel in downtown Houston. Over 150 HCPs joined us for this reception where the main mission was to say "THANK YOU" to those individuals who work so hard to educate families and individuals living with type one diabetes. On Saturday, CWD Events hosted a lunch and learn event at the Four Seasons Hotel on the topic of "Hypoglycemia Awareness and Treatment." This event was sponsored by our friends at Baqsimi and featured guest speakers Natalie Bellini and Robert Oringer.  Over 50 attendees learned about the importance of rescue medicines and had an opportunity to ask questions about best practices when prescribing and encouraging use of rescue medicines by individuals with diabetes.
Additional Conference-Related Activities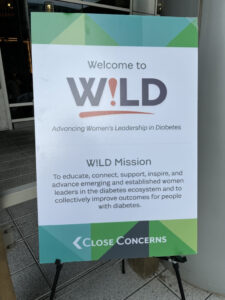 In addition to attending educational content at the conference, the CWD team had a great time at the W!LD (Advancing Women's Leadership in Diabetes) cocktail reception at the Grotto Downtown. We enjoyed catching up with many of our Friends for Life at this event and learning more about the mission of W!LD from our colleagues at Close Concerns. We also loved having the opportunity to meet with several of the members of our Board of Directors over the weekend and debrief about our recent Friends for Life Orlando 23 conference. Finally, we had lots of opportunities to make new friends and connections within the diabetes community. From potential new sponsors to current members of our Industry Advisory Board, we made sure to talk about the mission of Children with Diabetes and how much we appreciate the support from sponsors, educators, and providers.
Houston, we had a great time in your city! ADCES23 is certainly a happy one for the memory books.  Looking forward to next year's event in New Orleans. Until then, we leave in good spirits knowing that the connections that we made at ADCES23 are sure to last a lifetime.
Green and Orange Forever,
Leigh
Written by Leigh Fickling, JD, MEd, MS