Exercise Patterns in my Eyes
We're always told that exercise is an important part of living well with diabetes, and I work hard to stay active. But unless you're a high-level athlete, and look like it, very little of that hard work is recognized externally.
Which is why I'll never forget doing an eye screening one year with Dr. Ben at Friends for Life.
Dr. Ben packs a room with the best eye examination equipment available, brings in a staff of technicians and students, and they do free eye screening for attendees of the Friends for Life conferences every year.
After visiting each station in the room one year not long ago, Dr. Ben took a careful look at all of the test results and pictures and told me that everything looked great! That was wonderful news, of course. But it wasn't the best part, nor the part that sticks with me. He said, "I can see that you exercise a lot – keep up the great work!"
I walked away feeling so proud and encouraged! And amazed! He could see my exercise patterns – FROM THE BACK OF MY EYES! What?! That's incredible!
If you attend Friends for Life, and you totally should, please also be sure to register for the eye screening. It's an incredible opportunity and experience. I highly recommend it.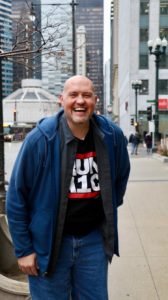 Scott was diagnosed with type 1 diabetes in 1980. Through his work as a diabetes advocate, he brings an honest and open account of his life with diabetes. He works hard to stay involved and give as much as he can back to the community that empowers and inspires him. You can read more at his blog, Scott's Diabetes.
Do you have a story to share about your experiences with diabetes? We want to hear from you! Tell us your story using the form below and we'll consider it for inclusion in the CWD Stories section of our website.