Sick Days and Diabetes
Sick Day Checklist
Imagine this: your child with diabetes has just gotten up, had a blood test, received the morning's insulin shot and eaten breakfast. Then, without warning, the child throws up breakfast. What do you do?
Managing sick days can be challenging, but we have you covered. Here are a few guidelines for managing type 1 diabetes on a sick day:
NEVER skip insulin, even if your child complains of not feeling well. Illness often causes an increased need for insulin.
Check your child's blood sugar often -- at least every four hours. Every one or two is warranted if the blood sugar is changing. If you're using a CGM to monitor blood sugars, confirm concerns with a finger stick.
Check for blood ketones. Checking for urine ketones is a good start, but not as precise as a blood ketone meter. You'll gain more insight into your child's health using a blood ketone meter.
Small amounts of grape juice or regular cola can help keep your child's blood sugar from dropping too low, even if they're reluctant to eat. Pedialyte or similar can help keep dehydration at bay.
Learn about the Mini-Dose Glucagon Rescue -- it may help prevent a trip to the hospital.
According to the American Diabetes Association, you should contact the doctor if your child has:
Had a fever for two days.
Been throwing up or having diarrhea for 6 hours.
Can't keep any fluids down, even small amounts (sips) of clear liquids.
Glucose levels are way over 

target range

 (ask your diabetes care team how high) even with additional insulin.
Moderate or large urine ketones.
Any symptoms of 

dehydration

 or ketoacidosis including difficulty breathing, chest pains, fruity smelling breath or dry lips.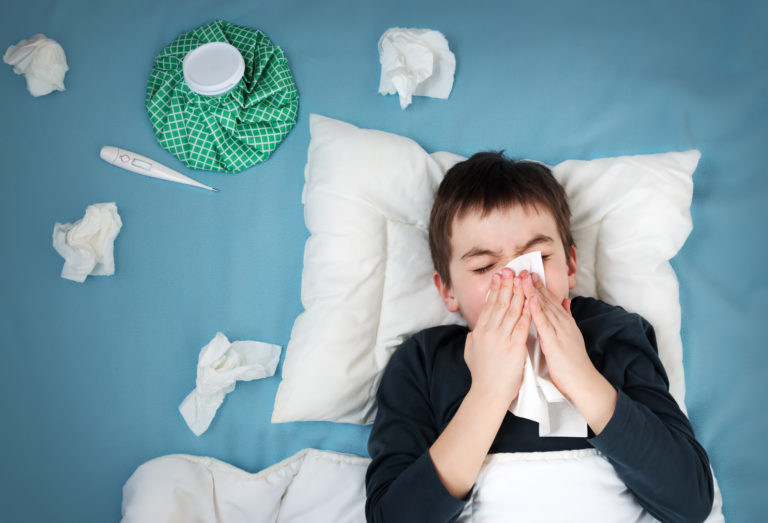 Ask the DTeam
Check out dozens of sick day and diabetes questions submitted by our community and answered by our experts